To create your myBlueprint account, you'll need to know the Activation Key or landing page URL for your school.
Not sure what that is? Check out our article 'What's my Activation Key?'
The signup process will differ a bit depending on whether you're a student, staff member, or a parent/guardian.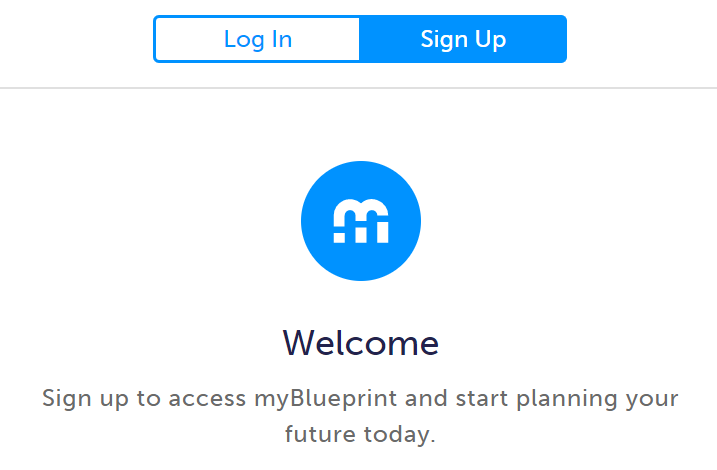 Visit www.myBlueprint.ca, or your board-specific landing page URL, and click Sign Up.
If your school uses Single Sign-On (i.e., you log in with the same username and password as on your school email / computers), click School Account Login.

Don't see a School Account Login button on your board landing page, or don't see your school board listed in the menu after clicking School Account Login? This means your school is not using Single Sign-On, and instead you use an email & password set manually in myBlueprint.

If you don't use Single Sign-On, then after clicking Sign Up, enter your Activation Key, or select your school from the drop-down menu, and click Create Account.
Complete the account creation form, selecting your role (Student, Teacher, Counsellor/Admin, or Family/Advisor) and the grade(s) you require access to (for Teacher accounts).
For staff accounts, your access will need to be approved by an administrator prior to accessing any student information.
Elementary/Middle schools: If you're trying to create an account as an Elementary / Middle School Teacher, but don't see your school on the drop-down menu:
Only high schools appear on the list of schools within a board-specific landing page when creating an account
To create an account tied with an elementary or middle school, choose the first option on the list (often '[Your Board] Elementary'). Alternately, you can select the high school that your students typically attend.
You'll be prompted to confirm your specific school at a later step of the account creation process


If you are a parent, guardian, or family member and want to create your own account, refer to the following articles:
---
Looking for more information about the features and levels of access within each myBlueprint account? Take a look at the myBlueprint Accounts article collection.