To reduce the burden for counsellors and students of printing and returning course selection sign-off sheets, myBlueprint's new online parent/guardian course selection approval allows parent/guardian sign-off to be emailed and approved without requiring a paper form.
The following guide outlines:
---
*NOTE: The online parent approval option must be enabled at the board level for students to access the following options.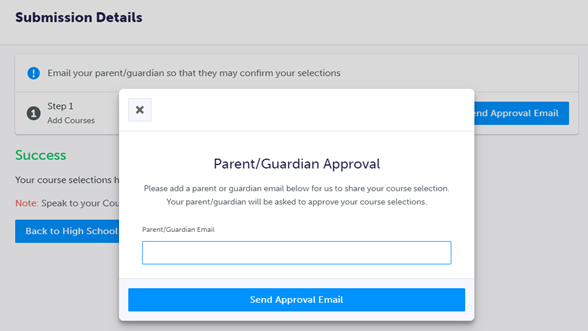 In myBlueprint, once students submit their courses they are prompted with a Send Approval Email option. Once clicked, a parent or guardian's email address can be added.
After entering an email address and clicking Send Approval Email, the parent/guardian receives a course selection approval request email, including:

The student's course requests
Alternate course requests, if any
Issues with course submission, if any (e.g. missing prerequisite, etc.)
Student comments, if any
Course guidance messages, if any

In the course selection approval request email, the parent/guardian has the option to Approve or Reject the student's selections by clicking a button or link in the email.
Students see a confirmation within their High School Plan indicating if their course selections have been approved or not by their parent/guardian.
---
Parent/guardian approval or rejection of course selections can be tracked by counsellors from their myBlueprint account in multiple ways:

From the Pending Approval, Pending Export, or Exported tabs in the Students section, counsellors can click the View button to see the Course Selection details of any individual student (including the Parent/Guardian Approval status).
From the Pending Approval, Pending Export, or Exported tab in the Students section of their account, counsellors can access the Filters menu to filter the list of student course submissions by Parent Approval status.
From any tab in the Students section of their account, counsellors can download an Excel file of student information from the Students section, including parent/guardian approval.
---
At this time, we are unable to import parent email addresses from your SIS. The email address that the approval request is sent to and approved from is logged and visible for counsellors to validate (see Section B - 1. A).
Counsellors can send the course selection approval request email on a student's behalf by completing the same steps outlined above using the View High School Planner option from the Students section:
Students can resend the approval email multiple times if needed. For example, if an error is made when entering the email or to share the approval request with more than one parent/guardian.
Once a request has been approved or rejected by a parent/guardian, this invalidates other approval requests sent by the student.
If course submissions are re-allowed for a student by a counsellor, this invalidates previous parental approval of the submissions and allows students to send a new email after re-submitting.



Questions? Email support@myBlueprint.ca or call 1-888-901-5505