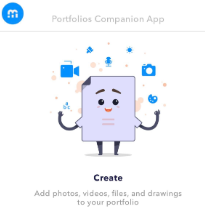 The Class Pass app for iOS provides a simplified way to add content to myBlueprint portfolios. Students can post boxes to their portfolios themselves, or teachers can post artifacts directly to a student's portfolio, to a group of students, or to an entire class.
Class Pass is a companion app to myBlueprint portfolios, and does not contain all of the same features as the web-based account accessible through any browser. The app itself is no longer being supported with updates (as of June 2023 - see note below), however it can still be used by teachers and students.
This guide outlines the different use cases for the app and browser-based login, while addressing a few frequently asked questions, and our future plans for iOS and Android app support.
Update on Android Compatibility and Class Pass App maintenance
As of June 2023, the Android Class Pass app has been removed from the Google Play Store, and the Class Pass app is no longer being supported with updates for iOS.
Based on user feedback, myBlueprint is developing a full-featured iOS and Android app alongside the development of SpacesEDU.
As we focus our resources on development of this new platform, we have made the difficult decision to discontinue updates to the Class Pass App for Education Planner and All About Me.
Over the coming years, districts will begin to migrate to a new version of our education & career planning platform built on the same technology as SpacesEDU.
Until we transition schools to the new platform, we will continue to support Class Pass within teacher and student accounts, but the app will not receive updates.
As of 2023, the Google Play store began blocking new users from downloading the Class Pass app for Android.

This is only because it has not been updated in some time, not due to any known security issues with the app. We have subsequently de-listed the app and it is no longer available to download from the Play Store.
Unfortunately, there is no way to work around this and install it on a new Google Play account if you have not already done so. We do not recommend trying to install it from a third-party app store.

The app is still available for download from the iOS App Store but may be removed in the future.
Teachers and students that have already installed the app can continue to use Class Pass on their phones and tablets, but may experience intermittent issues, particularly when new options are introduced with future iOS or Android updates.
We are very excited about what's to come and we'll be communicating more information about our roadmap as release timelines are finalized.
Frequently Asked Questions
I've created a Class Activity for my students - how do they complete it in Class Pass?
Class Activities cannot be completed through Class Pass. In order to complete activities, please have your students log in through a Web browser - they can do so from a computer, or from a mobile device!
How do I post something to my entire class?
To post to your entire class, or a selected group of students within the class:
Log in to your Teacher Account

Click on your class to open it

Click the

View QR Code

button in the Class Pass QR code box on the right

Scan your QR code from the screen, or click

Print

Open the app and scan the code

Select the content you wish to upload, and tap the green check mark at the top right

Select

Entire Class

at the top of the list, or check off the individual student(s) you wish to post to

Tap the green checkmark again at the top right
How do I approve posts?
By default, posts made using the Class QR code require teacher approval before they become visible within students' portfolios. This is intended to prevent any issues with students inadvertently posting to the wrong portfolio, or uploading content that should not appear in their portfolio. To approve posts, simply:
Log in to your teacher account through a Web browser (either on a computer or mobile device)

Click on your class to open it

Click

Review Posts

Click

Approve All

to approve all pending posts, or click

Approve

or

Remove

as appropriate on individual posts
Why can't I see the posts from Class Pass in a student account?
First, if the post was added with a Class QR code, check if the approve posts option is enabled, and if so, whether the post has been approved.
If the post was approved, or added with an Individual Student QR code:

For All About Me students, the post should be visible right away in their portfolio
For students using Education Planner, the post is not visible right away. They'll need to first select which portfolio to add the content to:

click Portfolios in the left-hand navigation menu
open or create a portfolio
click Add Box > Add from Class Pass to view content from the app and add it to that portfolio
I don't want to approve posts as a teacher - what should I do?
You can click the toggle switch in the Class Pass box within your class and set 'Approve Posts' to No. This will disable the approval requirement so that future posts with the Class QR Code will appear directly in student accounts.
If students log in to the app individually with their own QR code, there is also no approval required.
Keep in mind, as outlined in the response to the previous question above, students using Education Planner (typically Gr. 7-12) will need to add the box to a portfolio by logging in to their account from a Web browser.
Curious about where to find individual QR codes, or how to reset a QR code if a student loses theirs? For a more detailed overview of the different QR login options, see our QR Code Login Guide.