Looking for a way to prompt your students to upload pictures or video, add journal entries, or other content to their portfolios in myBlueprint? Class Activities are for you! They're an ideal way to support curriculum objectives for any course, and provide students with a jumping-off point for reflection and metacognition throughout the learning process.
For a brief overview of the Class Activities feature, we recommend watching this short video below. Then for a deeper dive into the specifics of how this feature works, keep reading!
Let's define what a Class Activity is, and what it isn't.
When a student logs into their account, they have a set of Tasks waiting for them to complete. These are starting point, grade specific 'tasks' that myBlueprint creates for your students. These are the tasks students complete in order to start collecting points.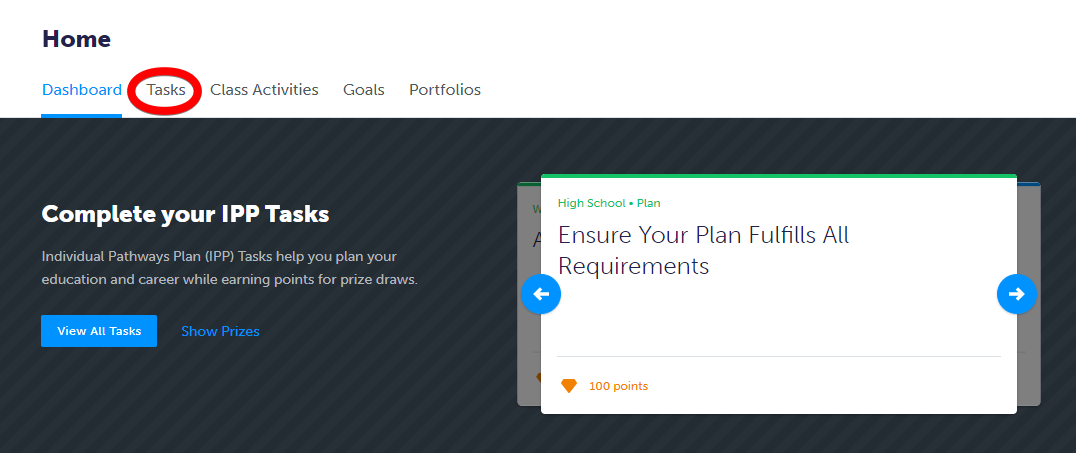 Tasks are NOT Class Activities. These tasks are pre-created at the provincial level by myBlueprint. If you're looking to create custom content specific to your class, that's where Class Activities come in!
Class Activities are tied to a 'class' that a student has been added to by an educator. A class can be a course, or any grouping of students (e.g., Teacher Advisory Group, All Grade 11s, Football team, CLE-Block 1, etc.).
Once you have created a Class Activity, that activity will be found within the Classes tab beside Tasks in the student account, pictured below.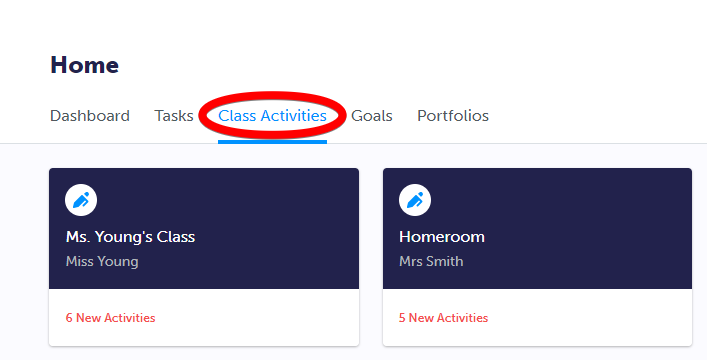 Every Class Activity you create will prompt students to add their work to a Portfolio they have set up (or they can create a new one as part of the process when completing the activity).
Within their portfolios, students can add one of 3 types of artifacts: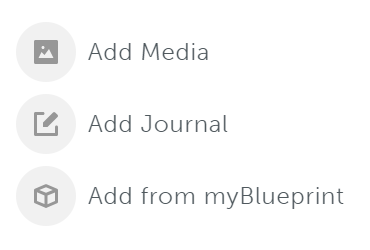 Media; take a picture, record a video or audio clip, post a link, or upload an image, or a file (like a completed Word document, PDF, or something stored in the cloud)
Journal; this is a straight up text-based journal entry. Although students have the option to add supporting media to their entry, they don't have to.
From myBlueprint; something they've done within myBlueprint (e.g. a Goal they set, Occupation they favourited, or a Post-Secondary pathway of interest).
Note: the 'from myBlueprint' option is only available in Portfolios and Class Activities for students using the Education Planner (gr. 7-12) platform. For All About Me users, the third option is simply Goals.
These types of artifacts are important to remember when deciding what type of Class Activity you're asking your students to complete. Each Class Activity must prompt students to add one portfolio entry of the type you've selected when creating the activity. For example, your instructions can direct students to complete a handout in Word or PDF form and upload it to their portfolio, or write a journal entry about a specific topic - but you won't want to ask students to upload multiple files, or add multiple different post-secondary programs to their portfolios.
Ready to learn more about the specific steps to create your own Class Activity? Check out our article that covers exactly that!