Once you have completed all the preparatory steps for Course Selection, to open it up for students to begin submitting, simply:
Log in to a myBlueprint Counsellor Lead account
Click the Closed toggle switch in the Course Selection panel
Click the Closed switch at the top of the pop-up box to open course selection for all grades, or toggle specific grades to Open if you want only certain grades of students to begin submitting.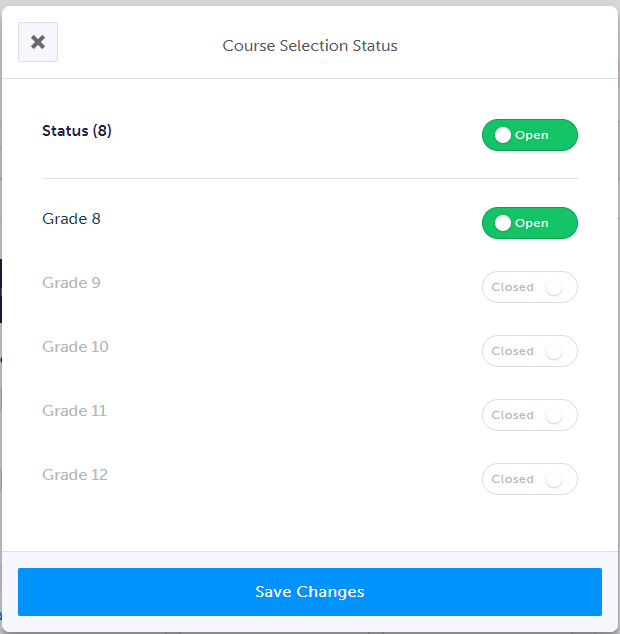 That's all there is to it! To close submissions once your deadline arrives, simply reverse the steps above, and toggle the switches back to Closed.
Note that the grade level when opening/closing course selection refers to students' current grade, not the grade they are submitting next year's courses for (i.e., to open submissions for next year's incoming Grade 9s, you'll want to choose Grade 8).
What if the option to open course selections isn't available? To access this option, you'll need a Counsellor Lead account in myBlueprint. If you have a Counsellor account and are looking to open course selections, or have your account updated to Counsellor Lead status, please contact the head of guidance at your school.
If the option to open course selections is marked as 'Disabled by School Board', this means that an administrator at your board has applied the 'Course Selection Master Lock' setting. To confirm when the option will be made available to you, please contact your school board lead for myBlueprint.

Lastly, if you do not see the option to enable course selection for incoming Gr. 8 students (or Gr. 9 students in provinces where high school begins in Gr. 10), this means that they have not yet been pre-registered to your school in your Student Information System, or that myBlueprint has not yet received their pre-registration data. To open course selections for them, please ensure they have been pre-registered in your SIS, then you will see the option enabled after the next transfer of data. If you're with one of the boards that has Gr. 8 students complete course selections prior to being pre-registered, not to worry, this means that it will be opened centrally for Gr. 8s at the board level.