As a student, one of the first things you'll see on your Dashboard page are the Tasks. By default these are labelled IPP Tasks, for Individual Pathways Plan. Some provinces have their own custom name for Tasks.
The Tasks are a set of grade-specific activities to help guide your exploration of myBlueprint. Each September at the start of the school year, you'll have a new set of Tasks to complete.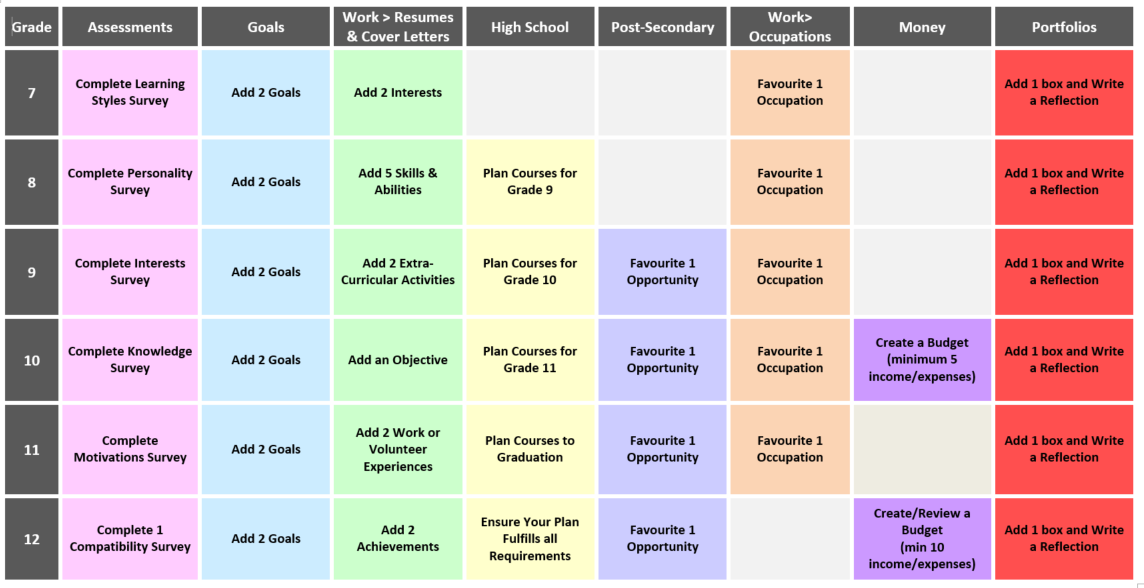 Tasks are pre-created by myBlueprint at the provincial level. The example image above gives a breakdown of the tasks by grade for students in Ontario and Manitoba.
By completing 100% of your Tasks each school year, you'll have planned all courses for successful high school graduation, completed our Who am I surveys to get a better sense of your potential career matches, built a resume and portfolio, and much more! Each task that you complete allows you to earn Points which can be used to enter prize draws as well as scholarship contests.
To access Tasks and enter Prize Draws, simply:
Log in to your Student Account
Click Tasks in the Home section - you can click on any Task to be brought in to the correct section of your account to complete it
Click Prizes to access the available prizes, then Enter Draw to enter your name for a chance to win

Note that entering a draw does not guarantee you will receive the prize - your name may be randomly selected as one of the prize winners on the Draw Date. If you are selected, you will be contacted by email.

Click Scholarships to access the available scholarships, then Enter Draw. Review the scholarship details and complete any necessary steps, then click Confirm Entry
Not seeing a Task completed in your account? If you think you've completed an IPP Task, but you're not seeing it tracked as complete or points awarded for it, there are a few things to check.
Tasks are reset each school year.

So if you have added 2 goals last year, for example, or added a portfolio box last year, that does not count toward the completion of this year's Task. You'll need to complete that task again during this school year for it to be marked as complete.
The only exception to this is the Who am I Survey tasks - if you've already completed a Survey during a previous school year, and it is part of your Tasks for this year, you don't need to re-do it for that Task to be marked as complete. However, you do need to log in at least once during the school year, otherwise your progress will remain at 0%.
Carefully review the prompt in the Tasks section to ensure that you have completed all of the components for the task. Some examples:

For any of the Resume or Cover Letter tasks, you'll need to make sure that you have added at least that many separate items within the appropriate section, during this school year (e.g. 2 Interests, 5 Skills & Abilities, etc.)
For the 'Add 1 Box and Write a Reflection' Task, you'll need to both add a portfolio box during the current school year, and click the 'Add Reflection' button at the bottom right of a portfolio box to post an additional reflection.

As a teacher, you can use the Feed in your class to view all work that students have completed this school year, and check whether a given activity was completed this year or in a previous year. Note that if you are already logged in to your account while students are completing tasks, you'll need to refresh the page in order to see the progress percentages update for students.
Can I assign a specific task to my students as a teacher?
Tasks are pre-created at the provincial level, and it's not possible to customize the specific tasks shown for a class or school.
If you'd like to work on a specific task with your students, you can simply invite them to open the Tasks page in their accounts and they'll be brought to the appropriate section to begin completing it.
To assign customized activities with your own instructions, you can use the Class Activities feature.
If you've reviewed all of the points above and still have any questions about IPP Tasks, contact myBlueprint Support. We're happy to help!