The myBlueprint family account allows you to view student portfolio artifacts and reflections, including the goals they are setting, occupations they are interested in, and what they are learning in school. You can log in to your account to comment on your child's work or receive messages from their teacher(s).
This article will provide you with the necessary resources and steps to set up your parent account, follow your child's progress and communicate with their teacher(s).
If you are looking for more information, you can find the following resources on our Support Page:
---
If you do not have a Parent/Guardian account:
First, ensure that your child has a myBlueprint account set up - if they're not sure, you can confirm with their teacher or guidance counsellor.
Once you've verified your child has access, there are two ways you can get set up with your own account:
Parents with children in Grades K-6

Reach out to your child's teacher and ask that they send you an email invitation to connect
You will receive an account creation invitation to your email address (see screenshot below):
If you haven't yet created an account, clicking the link in the email will take you through the steps to sign up for a Family account.
If you've already created an account with your email, and receive a new invitation to link with another child, the button in the email will complete the link to your existing account.

Parents with children in Grades 7-12+

The easiest way to link with a child using Education Planner (Gr. 7-12) is to have your child send you a link request, which they can do within their student account:

Log in to their myBlueprint account
Click their name in the top right corner
Click My Links
Click + Add Link

You will receive an account creation invitation to your email address - simply click the link and fill out the form to complete the creation of your account
Alternately, you can sign up for a family account using the school district landing page or activation key for your child's school, and enter the email address for their student account in the account creation form.

Rather than using an activation key, most school districts have a landing page set up at myBlueprint.ca/<district> - to confirm what link to use, check the district's main Web site or ask the school.
On the district page, you can click Sign Up, then select your child's school and complete the account creation form.

This will send your child a link request which they must approve from their account:

Log in to their myBlueprint account
Click their name in the top right corner
Click My Links
Click Approve next to the link request from you

To prevent unauthorized access to student data, until the link request is approved from the student's account, you will not be able to access any of their information.


---
Now that you have your very own myBlueprint account, let's familiarize you with your family account. If you are already linked to your child, when you first log into your account you will see the following:

No results found

Either your child has yet to post anything in their account, or
You may need to filter by date to see work from an earlier date

Filters

You can filter by 3 date ranges:

Last 7 Days
This Month
This School Year

Student's Overview

Provides an overview of your child's personal information
Also where you can access a read-only view of your child's account by clicking the eye icon (see screenshot below)

+ Add Student

If your child is in Grades 7-12+, you can add them directly from within your account:

Click + Add Student
Input the Email address for their myBlueprint account
Click Add Student

If you see the following in your account when you log in (see screenshot below), this means that your child is not linked with you as of yet. Refer to the steps above to add your child.

Your name

The name associated with your account appears in the top right
Clicking on your name gives you access to your Account Settings, where you can update your account information (including email or password) and your notification options

Student View

The Student View button provides demo access for you to test out the features of myBlueprint.
This is different from the option to view your linked student's account noted above. Any content added in the Student View will not show up in your child's account, nor will their teacher be able to see this content!

Notifications

The Notifications section is where you will be notified if you receive a new link request or an existing request is approved
When you have any new notifications, you will see a red dot on the notification icon:

Messages

This is where any messages from your child's teacher will appear
Note: Teacher messages are one-way and cannot be responded to directly within your account.
However, on the main page of your account you can use the Comment box, which is below all of your child's posts to add feedback to their portfolios and communicate with their teachers (see screenshot below)
myBlueprint is a student-driven platform. The Family Account is intended to provide visibility on the great work that students are doing, and allow adding comments to support engagement between educators and parents/guardians. Comments that you add in the Feed or in student portfolios will be tracked as family comments.
The Family account does not allow adding new content directly to a student account, or completing class activities assigned to the student. Parents or guardians working together with their child can post content by logging in directly with the student account username and password:
Log in to your child's myBlueprint account:

Visit www.myblueprint.ca
Click Log In in the top-right corner
Enter their username and password, or use the School Account Login option for districts that use Single Sign On

Uploading to your child's Portfolio:

Click Portfolios
Click + Add Box
Select the Box type
Click the green Go check-mark in the top right corner

Completing a Class Activity:

Click Activities
Find the activity, and click Start Activity

Complete the activity

Click the green Go check-mark in the top right corner
---
Are you receiving the "Unauthorized" message when you attempt to add boxes (i.e. media, journals..) to your child's portfolio?
Parents cannot upload content to their child's account from within their parent account

If parents attempt to upload content they will receive "Error" and "Unauthorized" messages (see screenshot below). To add content, please follow the steps above to log in with the student's own credentials.
Are you receiving an 'Account doesn't exist' message when trying to link a student to your account?
This means the email address you entered does not match any student account in the myBlueprint database.

Check that your student has signed up for an account and that the email they have used is correct, or that the email that you have been provided matches what your student has used to create their account.

Rather than linking with the student from your account, you can try having them log in and send you a link request, or request an invitation from their teacher.
Want to link with more than one student?
To link a parent with more than one student account, you'll simply need to send invitations to the parent(s) to link with both students. This needs to be done by a teacher for K-6 students, or can also be done by students for Gr. 7-12.
Once the parents have accepted the invitation, they should see both student names along the right-hand side of their account.
To toggle between viewing each student, they'll simply need to click the student name.
If a parent is encountering issues linking with a second student, the teacher may need to re-send the invitation email after the parent has created their account.
For Gr. 7-12 students using Education Planner, the parent can also click the Add Student link to send an email request to link with another student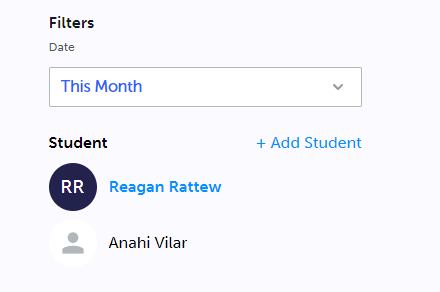 Still have questions? Don't hesitate to contact myBlueprint Support - we're always happy to help!
Qparent parent parent parQent parent parent parent parent parent parent parent parent parent parent parent parent parent parent parent parent parent parent parent parent parent parent parent parent parent parent parent parent parent parent parent parent parent parent parent parent parent parent parent