Occasionally with any web-based application platform like myBlueprint, you may encounter temporary issues with loading certain sections of your account, or our main log-in page. This is often caused by invalid data in your browser cache after an update to the site.
If you're receiving a blank screen when trying to log in, or part of your account is not loading (e.g. Classes, Activities, etc.):
First try simply refreshing the page - either click the Reload button in your Web browser, or press the F5 key
If that doesn't work, try performing a 'hard reload' of the page:

In Google Chrome (our recommended Web browser), the shortcut to do this is Ctrl+Shift+R on a PC, or Command+Shift+R on a Mac
You can also press F12, then right-click on the Reload button, and press Empty Cache and Hard Reload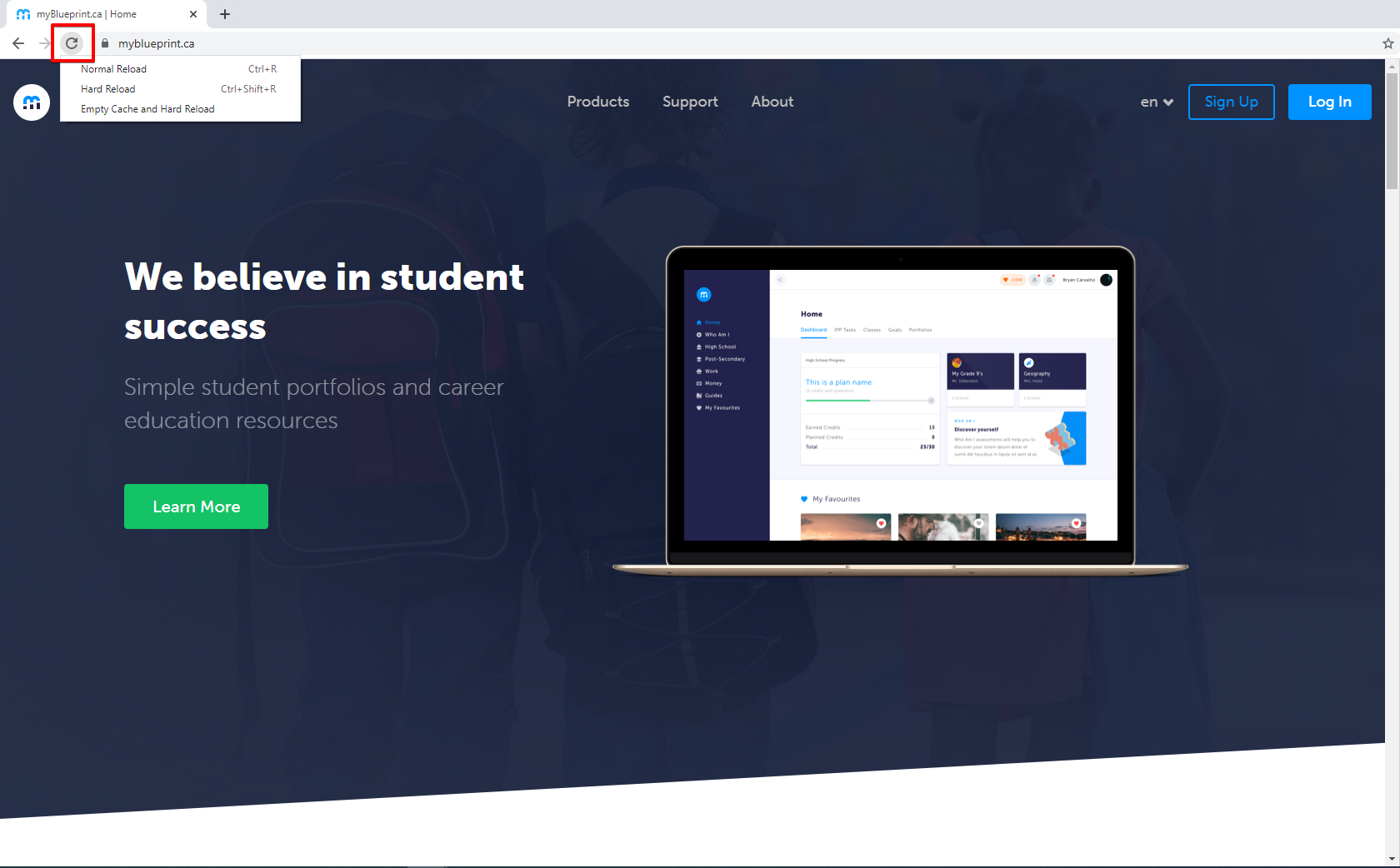 Note that the steps above will only clear the browser cache for myBlueprint - they will not remove other stored browsing data or saved passwords.
If the first attempt at a hard refresh does not work, try completing the steps a second time. Alternately, try logging in using an alternate Web browser.
In most cases, this should resolve the issue and allow you to access your account normally.
Error messages
If you encounter an error message within your account:
First, try simply reloading the page - either click the Reload button in your Web browser, or press the F5 key
If the message is still occurring, try logging out of your account and back in
Not working for you? After completing the steps above, if you're still receiving an error, don't hesitate to contact myBlueprint support.
To help resolve the issue as quickly as possible, please make note of the details of the error (or take a screenshot if you can), and either include them in an email or have them available when you call.
You can either email support@myblueprint.ca or call 1-888-901-5505. We're always happy to help!