Your student dashboard offers you a quick overview of the most important features available on myBlueprint. The dashboard is the first page you see when you log into your account. You can always return to your dashboard by clicking on Home > Dashboard on the left-hand side navigation menu.
Keep reading for a detailed walkthrough of all the information and links available on your student dashboard
1. Menu options
4. Classes
5. Resources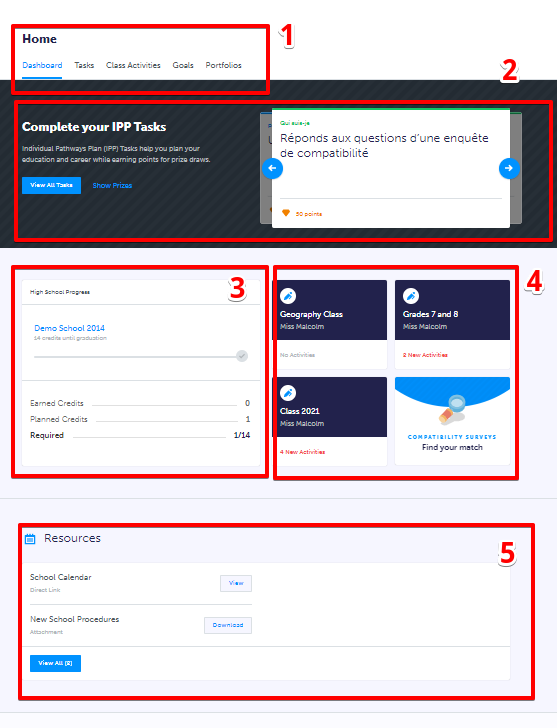 ---
Just below the Home section, you will find 5 different tabs which allow you to quickly access important features on myBlueprint. (see screenshot below)

Tasks: This will give you access to a page with outstanding and completed tasks. This is also where you can view the number of points you have gained and the draws you can participate in.
Class Activities: Clicking on Class Activities will take you to an overview of all your classes which require you to complete an activity assigned by your teacher. Simply click on the class box to view/complete the activity.
Goals: The Goals page will provide an overview of all the goals you have created on myBlueprint. You can use this page to quickly check off the tasks that you have completed. You can also toggle the list to Active or Completed to view the goals you have completed.
Portfolios: This page will take you to a list of all your Portfolios. Click on an existing Portfolio to add new content or click +Add Portfolio to create a new Portfolio
One of the first features you may notice when accessing your dashboard are the Task cards. (see screenshot below)
Click on the left or right arrows to go through the outstanding tasks.
Click on View All Tasks to see all active and completed tasks. Want a more detailed walkthrough of the Tasks features? Click here to read all about tasks on myBlueprint.
Completing a task will earn you points that you can use to participate in draws to win prizes. Click Show Prizes to view all the draws you can participate in.
The High School Progress feature provides you with a quick overview of your High School Plan, the credits you earned, the credits you planned, and the total number of credits required for graduation.
This is also where you will see the status of your course selection if your school uses myBlueprint to submit course selections.
Click on the title of your High School Plan hyperlinked in blue to access your High School Plan (see screenshot below). Want to know more about the features of your High School Plan? Click here to read all about the High School Plan feature on myBlueprint.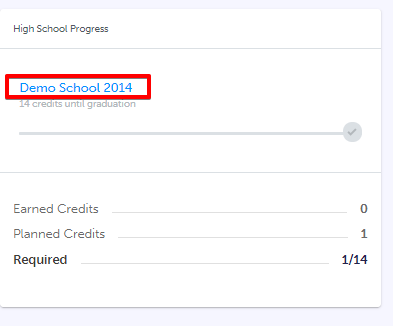 This section of your Dashboard provides you with quick access to activities that need to be completed - indicate by red text on the class box. (see screenshot below)
Simply click on one of the class boxes to access the activities to be completed or view the completed activities for that class.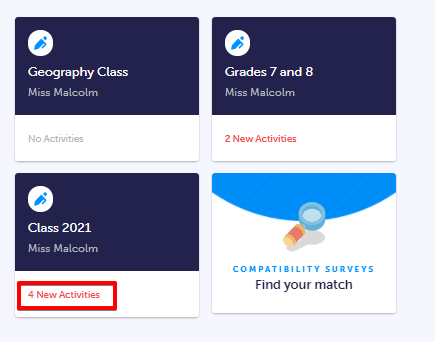 Note: If you do not see this section on your dashboard, this may mean that you have not yet been added to any classes or been assigned any activities to complete.
In this section, you will find all of the resources that are specific to your school or school board.
You can click on View if the resource is a link or Download if this is a document you can download. (see screenshot below)

---
Any questions about your Dashboard or other features in your account? Feel free to contact us at support@myBlueprint.ca or by phone at 1-888-901-5505. We are available Monday through Friday from 8 am to 6 pm EST.