If you're not seeing one of your students on the list within your Teacher or Counsellor account, it could be for one of a few reasons, depending on the configuration of your school.
Your student needs to create an account
The simplest reason you may not see your student is that they might not have created an account yet. To confirm the specific steps how your students should sign up, simply:
Click the Help button in the bottom right of your Teacher or Counsellor account
Click Get Students Started
Have your student complete the 'How to Sign Up' steps visible there, or click the Access Guide button to download a printable version
Once your student has created their account, they should appear on the list in the Students section of your account (as a Counsellor), or to add into a class (as a Teacher).
Your student's account may be Inactive
If your school does not have SIS data integration in place, it could also be that they have not logged in for more than a year, and their account was set as Inactive. Not to worry, their work is still saved! They can simply log in again to be made active, or you can adjust your filter settings to see inactive students.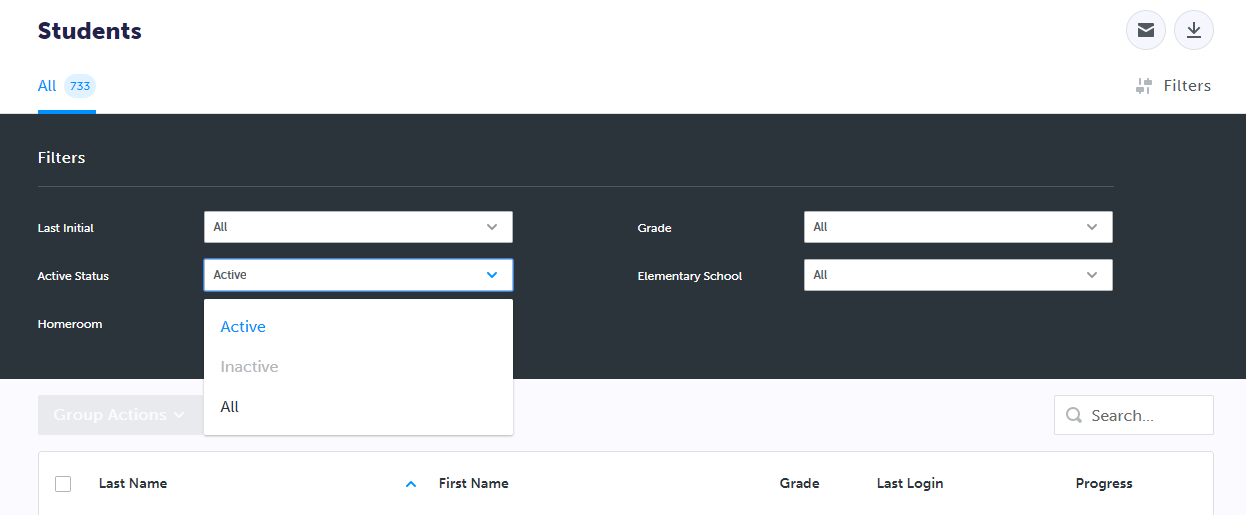 Under the 'Active Status' filter within the Students section, or the Add Students menu, by default you will view only Active students. Simply open the drop-down menu and select All to view all students.
Your student's account may be linked with the wrong school
If your student has accessed myBlueprint recently, but you're not seeing them from your teacher or counsellor account, it could also be that they have changed schools, or created their account tied to the incorrect school.
Your student's record may not have been received yet from your SIS
If your school has SIS data integration with myBlueprint, you should see all active students from your SIS within your account.
For students that have accessed their accounts, you will see a last login date.
Students that have not yet logged into myBlueprint will be marked as 'Not Activated.'

If there is a student not appearing anywhere on the list, please first ensure that :
They are registered as active in your Student Information System (SIS)
They have a provincial student number on file in the SIS
There are no issues with their enrollment record (e.g., incorrectly set as withdrawn or graduated)
Your school is their Home School in your SIS, and/or your account has access to the student's Home School in myBlueprint
They have completed any required parental consent for use of technology, if your school district has one in place
If all those requirements are met, and the student is new to your school, they should be added to myBlueprint with the next scheduled sync of data - we recommend that districts send new data on a weekly or biweekly basis.
If you've confirmed all the points outlined above and they are not a recent entry to your school, please contact your district IT team, or myBlueprint support. We're happy to help!